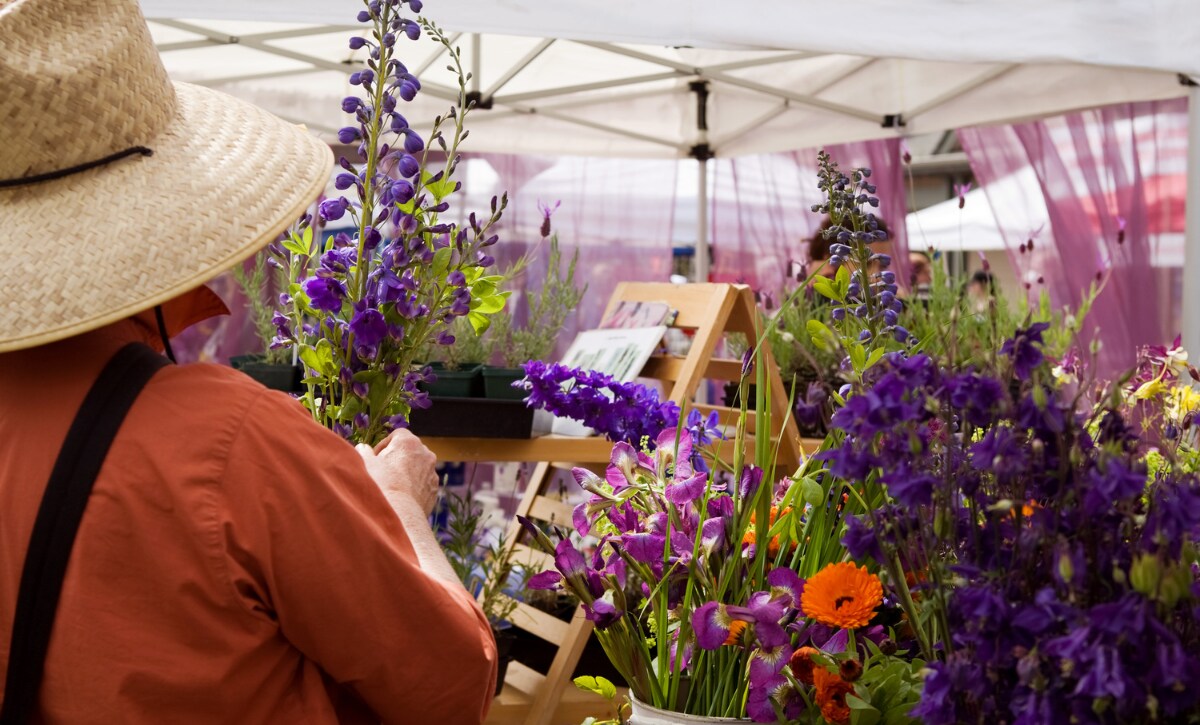 Why shopping for locally grown flowers is so great
August 31, 2021
Growing up in and around the flower business, I've seen millions of flowers—all sorts of different varieties, colors, and fragrances.
Our family has a farm on the eastern shore of Maryland that I've visited countless times throughout my life. I've seen our Yoshino Cherry Blossom trees continue to grow and bloom; I've seen almost a million mum plants spread over the 200+ acres. I've seen about 20,000 sunflowers grouped (a breathtaking sight!).
Though I experienced something special just a few months back when our buyer and myself visited a local flower farm, a hoop house full of snapdragons, and all of them had an amazing fragrance to them! After receiving and preparing to design, thousands of snapdragons, I never once smelled one as beautiful as these (smelling like bubble gum!). Locally grown flowers are truly amazing!
Fragrance - As I mentioned above, smelling a snapdragon that reminds me of chewing a piece of bubble gum brought back memories of playing little league baseball as a young kid. These types of memories are something flowers can trigger when you least expect it, which leads to number two.
Memories - Locally grown flowers, for the most part, are flowers that are native to our area. Perennials that are planted once and continue to bloom each year. Growing up in a flower-filled family, I remember going to my grandparent's house and playing hide and seek with my brothers and cousins and using my grandparent's camellia shrubs as the ultimate hiding spot. Now, whenever we purchase camellia branches from local farms, these memories instantly come back to me. I've had customers mention these kinds of memories when placing their Mother's Day orders. They mention how much they loved their Mother's lilac bushes and how this bouquet will make her day.
Shopping Local - Whenever possible myself and our business shop local. We love the community we are a part of and want to see it thrive and grow! From local print shops to local chocolate shops and everything in-between. When you shop locally, you're keeping your money in your community. Those businesses use that to pay their employees and pay their vendors (most of which are local too), re-invest in their business to make an even better shopping experience, and pay taxes that help area schools, roads, and important infrastructure. We're excited to continue to help our local economy flourish by purchasing more and more from local farms!
Always New - Like the seasons, the flowers that are grown locally are constantly changing. From fragrant hyacinths in the spring, snapdragons in early summer to sunflowers and lisianthus in the fall. Let our designers be inspired by the flowers arriving from the farm! Let them put together a bouquet that is unique to the freshest varieties arriving that day. You won't be disappointed!
Passion - Not to say that other cut flower growers worldwide don't have a passion for what they grow, but after speaking with local farmers, you can really tell these people LOVE flowers, farming, and getting their hands dirty. Working in 100-degree weather (sometimes hotter in the hoop houses) is not for everyone. You have to truly love what you do! The time and care that goes into growing flowers in our area is a labor-intensive process. From planning what you'll grow in the coming season to planting each seed, waiting for it to sprout, then transplanting it into a field or hoop house, watering each plant, pulling weeds to ensure the flower has enough room to grow, then continuing this process for weeks or sometimes months and finally cutting each bloom at the optimal time takes real passion! This passion is contagious! After visiting these farms, our buyer and I talked about our different ideas for using these special flowers; we were inspired!
By now offering a way to buy and send 100% locally grown flowers, we hope we're able to bring back some of the memories you have of growing up around flowers and plants, inspire you to shop local whenever possible, and let our passion for design and flowers show in our arrangements and inspire you or the recipient of these blooms to do something spectacular!
-Chad Mangum, 4th generation florist