Keep up with what's blooming at Bell
Indoor Plants for a Stylish and Air-Purified Home this Summer
As summer is in full swing, it's the perfect time to bring the beauty and benefits of nature indoors. Indoor plants add a touch of greenery to your living spaces, improve air quality, and create a serene and inviting ambiance. In this blog post, we'll explore some stylish and air-purifying indoor plants that enhanc... Continue Reading
July 10, 2023
Order early and surprise Mom with her favorite flower!
Mother's Day is just around the corner, and it's a perfect opportunity to show your mom how much you appreciate her. Flowers have always been a classic gift for Mother's Day, and for good reason. They are beautiful, and fragrant, and can instantly brighten up any room. Bell Flowers, located in Silver Spring, MD... Continue Reading
April 30, 2023
Did you know? April's birth flowers are daisies and sweet pea!
April is a month of new beginnings and fresh starts, and what better way to celebrate this than with flowers? At Bell Flowers, we believe that the flowers you choose to celebrate birthdays and special occasions should be meaningful and thoughtful. So, let's take a closer look at the birth flowers of April and what they symbolize... Continue Reading
April 16, 2023
April is National Garden Month
April is National Garden Month, a time to celebrate the beauty and benefits of gardening. Gardening is a wonderful hobby that offers many benefits to our physical and mental health. As a flower shop located in Silver Spring, MD, Bell Flowers is excited to join in the celebration of National Garden Month and share with our custom... Continue Reading
April 12, 2023
How to make your poinsettia bloom again
With the right care, poinsettia plants can be a very long-lasting gift. I've seen some avid gardeners with a very green thumb have the same plant re-bloom year after year. We found these easy-to-follow steps to be best if you're trying to make that gift last and last and last. During the winter months, continue to follow the up... Continue Reading
December 09, 2022
Care tips for your poinsettia
As the poinsettias start to arrive this week, we wanted to share a few quick tips on how to best care for your poinsettia plant to ensure it's still beautifully greeting guests as they arrive for the holidays later in the month. Light – Poinsettia plants prefer bright indirect light – full sun is unne... Continue Reading
December 02, 2022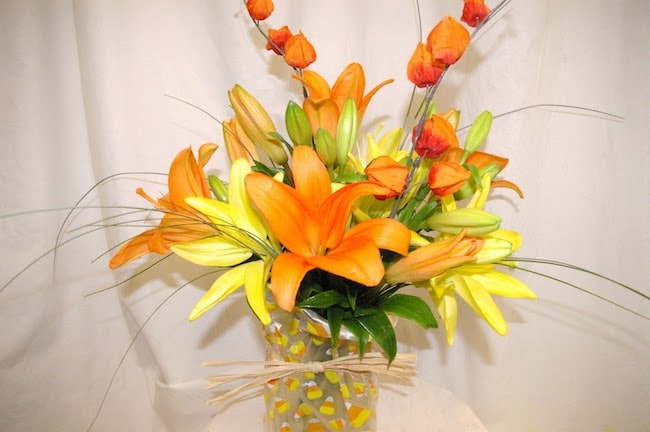 Halloween DIY (With Flowers!)
Here are some great DIY ideas from our design team to prepare your home or office for the fall holidays! Use a pumpkin to hold autumn blooms! Choose a cylinder or similar size vase, cut the top off your pumpkin and clean out the inside. Insert the vase and flowers, and enjoy! Add a costume to your vase! A glass va... Continue Reading
October 04, 2022